Everyone's different when it comes to how they beach.
However…there are a few things that we can probably ALL relate to, such as sandy everything, sunburns on the first day, too many drinks (or desserts), etc.
These beach-goers took to Twitter to vent about their personal #beachprobs and it proves that we're all in the same boat (no pun intended) during a beach vacay.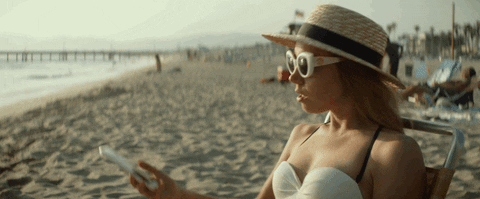 11 Hilarious Beach Tweets That'll Make You Say "Same":
1. Swimsuit struggle
strapless swimsuits + large ocean waves = do I choose to die or flash everyone here ? #beachprobs

— Kaylee Coleman (@kay_co18) June 14, 2017
2. Melting drinks
My margarita is getting warm. I might go stick it in the ocean for a while to cool it down. #beachprobs

— Caroline Keane (@CarolineKeane14) July 25, 2017
3. Sand, sand and more sand
My Saturday night activity is cleaning sand out of my bedroom dressers so I can finish unpacking #beachprobs

— Rachel Smith (@RachelllNicole_) January 15, 2017
4. Life is hard
I love that my hardest decision of my day is deciding what bathing suit I'm gonna wear #beachprobs

— Natalie Culver (@NatalielovesJM) June 27, 2016
5. Fresh face
Vacation was 10 days of no make-up… how do I do this mascara thing again?? #beachprobs

— Łinđs K (@lindskulaaa) May 24, 2016
6. Endless avocados
Got avocado all over my Kindle. #beachprobs

— Kate Bigam (@heyescapist) September 19, 2015
7. Wet flip-flops
One of the worst noises –> wet feet walking in rubber flip flops #why #beachprobs

— Josh Howard (@joshwhoward) July 23, 2015
8. Savage seagulls
A seagull literally took an entire half of a sandwich out of my hand. I'm not even mad. It was impressive #igotscared #beachprobs

— barbara-jean (@bjercolino) May 30, 2015
9. Going back to reality
*ordering food at zaxbys* "ughh back to the real world where you have to pay for things"- @mstipton14 #allinclusiveprobs

— hayden tipton (@TiptonHayden) March 26, 2015
10. Salt water 
Does swallowing ocean water count against your daily sodium intake? #BeachProbs

— ashtonwhiting (@ashtonwhiting) March 1, 2015
11. Extra lbs
Work pants considerably tighter than before I went away. #allinclusiveprobs

— Rachael Blackshaw (@RachBlackshaw) June 24, 2013
Now, it's your chance to tweet about your beach probs (or perks).  Visit our website to explore your vacation options!