So, I for some reason decided to start a plant-based diet in the weeks leading up to my stay at the All Inclusive resort Secrets Akumal in Riviera Maya, Mexico next month.
At first, I was really stressing about it — I don't want to be worried the whole time I'm on vacation that I'm "cheating" by indulging in all the "free" food. At the same time, I don't want to limit myself from all the glorious dining options involved at my resort.
This is usually what happens: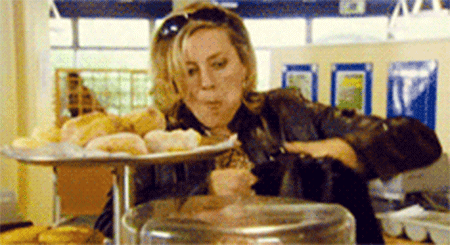 Once I really thought about it, it's really not THAT difficult to stay relatively healthy on vacation, even at a resort. There's just a few main things to keep in mind that will keep you on the right track.
8 Tips For How To Eat and Stay Healthy At An All-Inclusive Resort:
1. Stick to the one-plate rule.
It's almost impossible to arrive at an all-inclusive resort and NOT adopt the "eat everything" mindset. Technically, you've paid for the right to do so. However,  with many things, just because you can doesn't mean you should! It can help to give yourself a goal of only filling up one plate each time you eat. Try to make it colorful and diverse! This will be more satisfying in the end, especially compared to how you'd feel after 5 different plates.
2. Take a lap around the buffet before filling up.
At any buffet, especially resorts, there are so many options it can get overwhelming. Due to this, you may end up grabbing what you see first. Walking around to observe what options are available is truly helpful. This way, you're sure that you've picked the best of the best. Look for items that are bright and fresh. Next, you can fill up whatever room you have left with things you want to indulge in.
3. Create a dessert plan.
It comes to no surprise that there is a wide-variety of dessert items at resorts. This IS your vacation, meaning you should give yourself a break here and there, but not necessarily during every meal of every day. We suggest the 2:1 ratio when it comes to resort desserts: end your breakfast and lunch with a generous amount of fruit, leaving dinner as the time to order that tiramisu or crème brûlée.
4. Choose wisely at the bar.
Unlimited alcohol is one of the most popular perks of an all-inclusive. Again, it's not to say that you shouldn't partake, but you should be weary of what you're choosing to order throughout the day/night. It's probably smart to keep a limit on the fruity drinks — margaritas, pina coladas, bahama mamas, etc. Typically, a large glass of any of these beverages contains around 400 calories, which is more than a fast food cheeseburger, and more sugar than a Snickers bar! You're at the beach, it's sort of a right-of-passage to take part in these at least a couple times during your stay. Just try not to make these your go-to order! Opt for a mojito, vodka and soda water with lime, a light beer, or wine spritzer.
5. Drink water.
This may seem like an obvious one, but it is so easy to forget about hydration when you're quite literally baking in the sun all day — most likely with a dehydrating alcoholic beverage in-hand. Water will keep nutrients moving throughout your body, flush out toxins, and keep you feeling more full, AKA, help you avoid calling in room service multiple times a day.
6. Participate in resort activities.
Staying active while on vacation doesn't have to be difficult. Don't feel like you have to continue that morning-jog or pilates when you should be relaxing. Most resorts DO offer a gym facility, but it's so easy to get in some exercise in a more vacation-style way. Take advantage of the variety of available amenities and/or activities going on at the resort! Do some laps in the pool, take short jog along the beach, attend a yoga class, or scuba-diving lesson!
7. Dance.
Yes, you read that right. Many Caribbean and Mexican all-inclusives have begun offering dance lessons as part of their entertainment programs. If you're brave enough, or even have to down a cocktail or two first, take a salsa lesson! You'll burn calories instead of laying in the hotel bed, and maybe even make friends along the way. If this isn't your thing, most resorts have on-site clubs or bars with a DJ and  dance floor, making it super easy to work off all that snacking you did all day.
8. Don't be afraid to ask.
When all else fails, remember that it's okay to ask the resort staff questions regarding what you're eating. Not sure what's in a specific dish or need a vegetarian/vegan alternative to the steak tacos? Just ask! Don't forget that you're in a place where the people are employed to cater to your needs as a guest. You aren't the only one who has had this issue or question!
See, like I said, it's easier than I initially thought. I'm ready for my trip! What about you?
—
So, ready to head to the beach? We can help!